As published by Inter Press Service on Aug. 9, 2010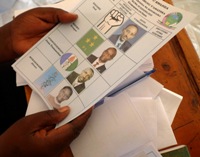 KIGALI, Aug 9, 2010 (IPS) – As voting concluded in Rwanda's presidential elections, with incumbent President Paul Kagame expected to win by a landslide, fears remain that not all citizens will accept the results amidst claims the elections were neither free nor fair.
Critics claim the Aug. 9 elections were not fair as in the run-up opposition candidates were arrested to allegedly prevent them from standing against Kagame. Al Jezeera quoted Amnesty International saying there was a "climate of repression" in the country and that 30 newspapers had been banned, journalists had been targeted and opposition party figures intimidated.
Female opposition leader Victoire Ingabire believes people will rise up against the president in protest against this political repression. Ingabire, the chairperson of the United Democratic Forces (a coalition of Rwandan opposition parties with members in Rwanda, Europe, the United States and Canada) said if Kagame refuses to cede power, "people will use all possibility to push him to accept it."
An estimated five million Rwanda's voted in an almost incident-free election. But Ingabire believes Rwanda is going through a "crisis" and that the country is not in a mood of elections but in "a mood of war." "[Kagame] would like to stay in power but people need change and he does not accept to lose the power," she explained. "That is the problem and if there is no possibility to change the power peacefully, this means that the people, we won't agree with him. You can use other ways to take the power."
Rwanda's 1994 genocide left more than 800,000 dead and saw countless women raped. Kagame has ruled the country since then, first in the transitional government and again in 2003 when he was elected president in Rwanda's first democratic elections.
In January, Ingabire returned from 16 years of exile in the Netherlands. She was arrested in April and charged with collaboration with armed groups, genocide denial and "divisionism" – charges she denies. She has since been released on bail on condition she does not leave Kigali. During an interview with IPS at her home, three armed soldiers patrolled just a few feet away. Ingabire said she is followed by security forces wherever she goes.
Ingabire, a Hutu, wanted to run for the presidency but was not able to get her party registered. She claims there is an environment of political repression in Rwanda. While millions of Rwandans headed to the polls for the presidential vote, the political head told IPS she would not vote. "We cannot have a free and fair election in Rwanda because there (is) no freedom," she said. "All is under repression."
Of the four presidential candidates, Alvera Mukabaramba from the Party of Progress and Concord, was the only female candidate. But Ingabire said Rwandans did not have a real choice at the polls, claiming the opposition candidates are "stooges" of the president.
The presidential candidate for the Liberal Party, Prosper Higiro, says "that's ridiculous." Higiro told IPS that his party, which was created more than 19 years ago, is "independent" and "autonomous." At his party headquarters, he insisted his party has "no relationship" with the ruling party, yet his campaign manager refused to release details on where the party gets its funding.
Higiro described the political environment in Rwanda as "free." "It's alright. There's no problem for me," said the presidential hopeful. "There's no problem. I don't think the environment is tense."
Preliminary results are expected as early as Aug. 10.
(END)